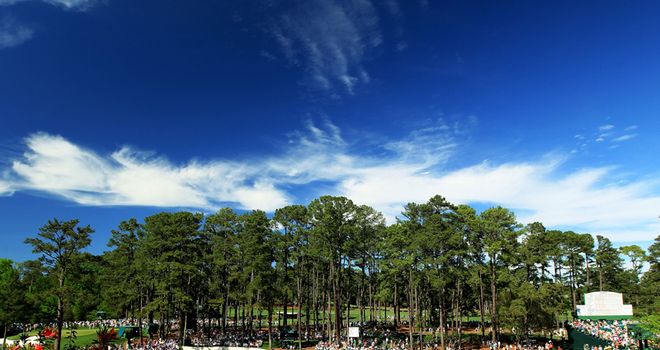 For the past 4 Masters weeks, it has been very emotional for me. I grew up seven and half miles from the Augusta National. From 1987-2004 I went at least one practice round, one tournament day, or worked the Masters. I'll never forget in 1987 when my Mom and Dad took me to my first practice round. I was all about collecting autographs. Over the years I made it on the front page of the Augusta Chronicle twice and was on ESPN a couple times. I saw many great golf shots. I met many great golf legends. I made many memories with family and friends.
In 1996 I took my little brother Michael for the first time. I still remember his look when we first walked on the grounds of Augusta. He was only 11 and had only played golf in our front yard, on video games and at Putt-Putt.
I think back to 1997 when we went and we were about to leave and as we were heading to the gate we noticed Tiger teeing off on the first tee. We followed him as he played the front 9 along with about 10 other people, since everyone else had pretty much left for the day. I remember seeing the excitement in my brother as he watched the biggest name in golf dominate the course.
I look back and remember the times we didn't have tickets and would go from parking lot to parking lot on Washington Road looking for a face-value practice round. And without a doubt every time Michael would be the one to land us the tickets at face value.
We always joked about who ever died first the other would spread their ashes at Augusta at the 16th hole. That was our favorite spot on the course. During practice rounds we would sit their for hours watching golfers come through and we would yell "skip it" and try to get them to skip it across the water after they took a couple shots. Michael and I witnessed many hole-in-ones at 16.
Augusta is home to me and always will be. The Masters is a special tournament because it is home. It reminds me of many great memories with family and friends. It reminds me of great times with my brother.
Every year since I was little...Master's week was special. And now going on my fourth Masters after my brother passed away it is still special and a very emotional week.